With the Habit System Planner
Life is Crazy, Tame it With A Guided Process That Works
We've created a unique planner that guides you to setting goals, tracking your habits, and reflecting on your work. The Habit System Planner reduces anxiety, increases productivity, and provides mental clarity.
How It Works
The Habit System Planner is a 3-month planner with three simple sections: Month, Week, and Day. You start by setting your monthly goals.
The Monthly View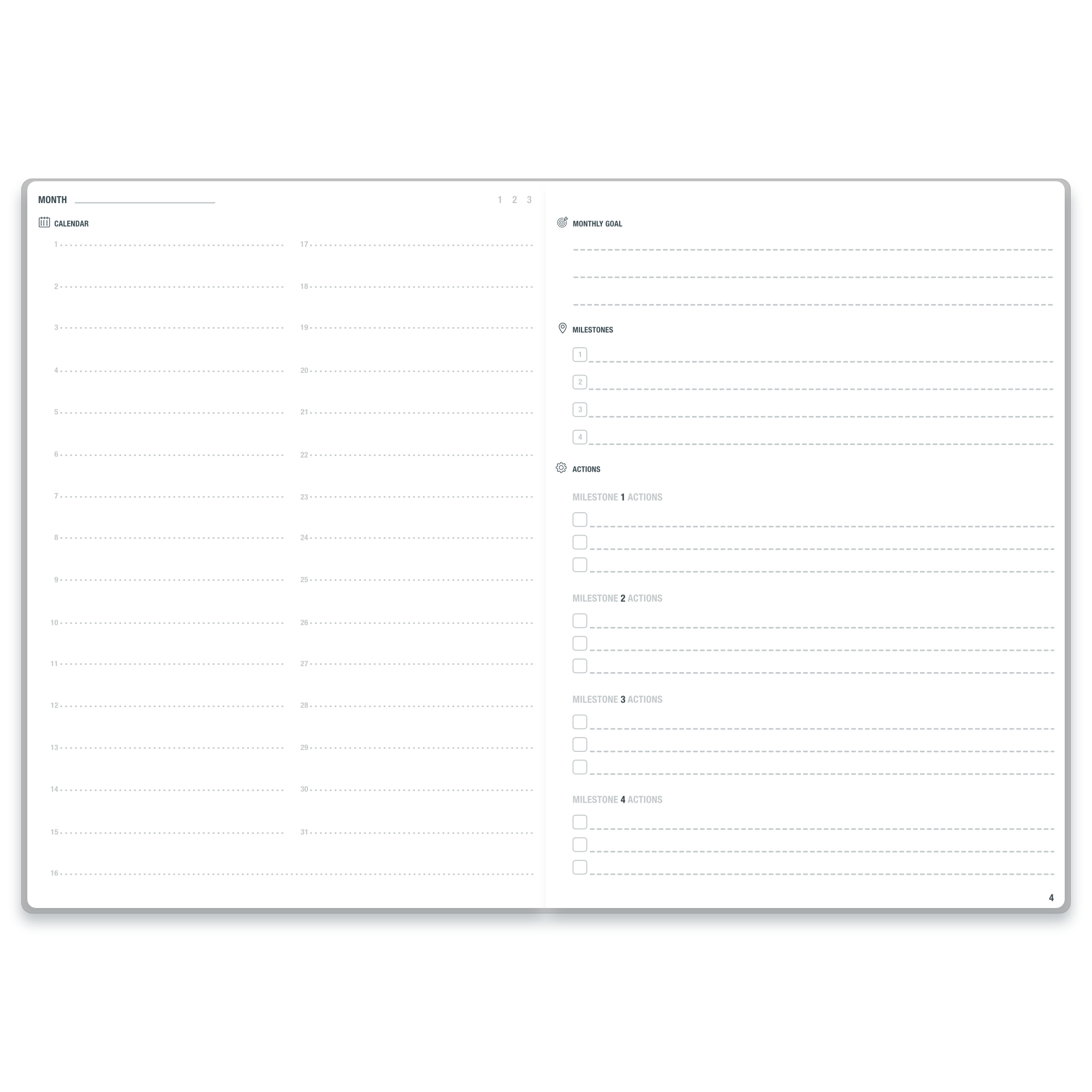 Step 1
See Your Monthly Calendar
Keep an eye on your commitments, meetings, and important events so you never miss a beat.
Step 2
Set Your Monthly Goals
Set your monthly goals to get the ball rolling on your actions for the month!
Step 3
Establish The Steps to Achieve Your Goals
A goal without a plan is just wishful thinking. Break down your Monthly Goal into realistic miletones that will keep your progress on track.
Step 4
Break Your Goals Down Into Actions
These are the final pieces of your monthly goal puzzle. Each milestone is built on smaller actions, and will inform your day-to-day and week-to-week progress. Future You is going to love Present You for the plan!
The Week View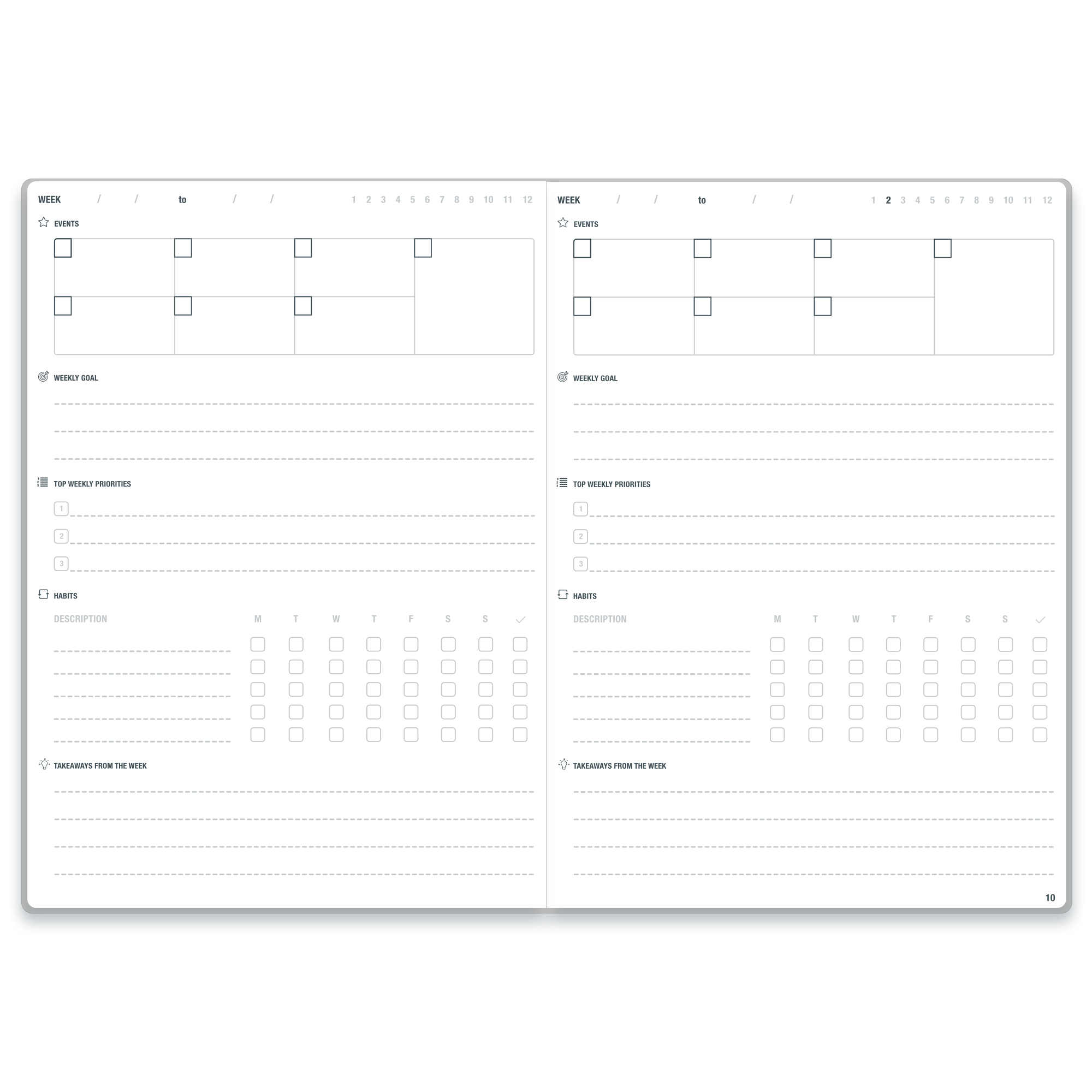 Step 1
See The Important Events of the Week
Add your meetings, events, "me" time, calls, and deadlines to start your week informed and prepared.
Step 2
Set your Weekly Priorities
Quickly keep track of your weekly progress for the actions you want to solidify as good, balanced habits.
Step 3
Track Your Habits
Determine what must happen everyday and focus on it. Build your streaks to ensure you are getting the right work done at the right times.
Step 4
Reflect To Refine
What went right? What could you do better? How can you refine to be more productive and creative in the future?
The Day View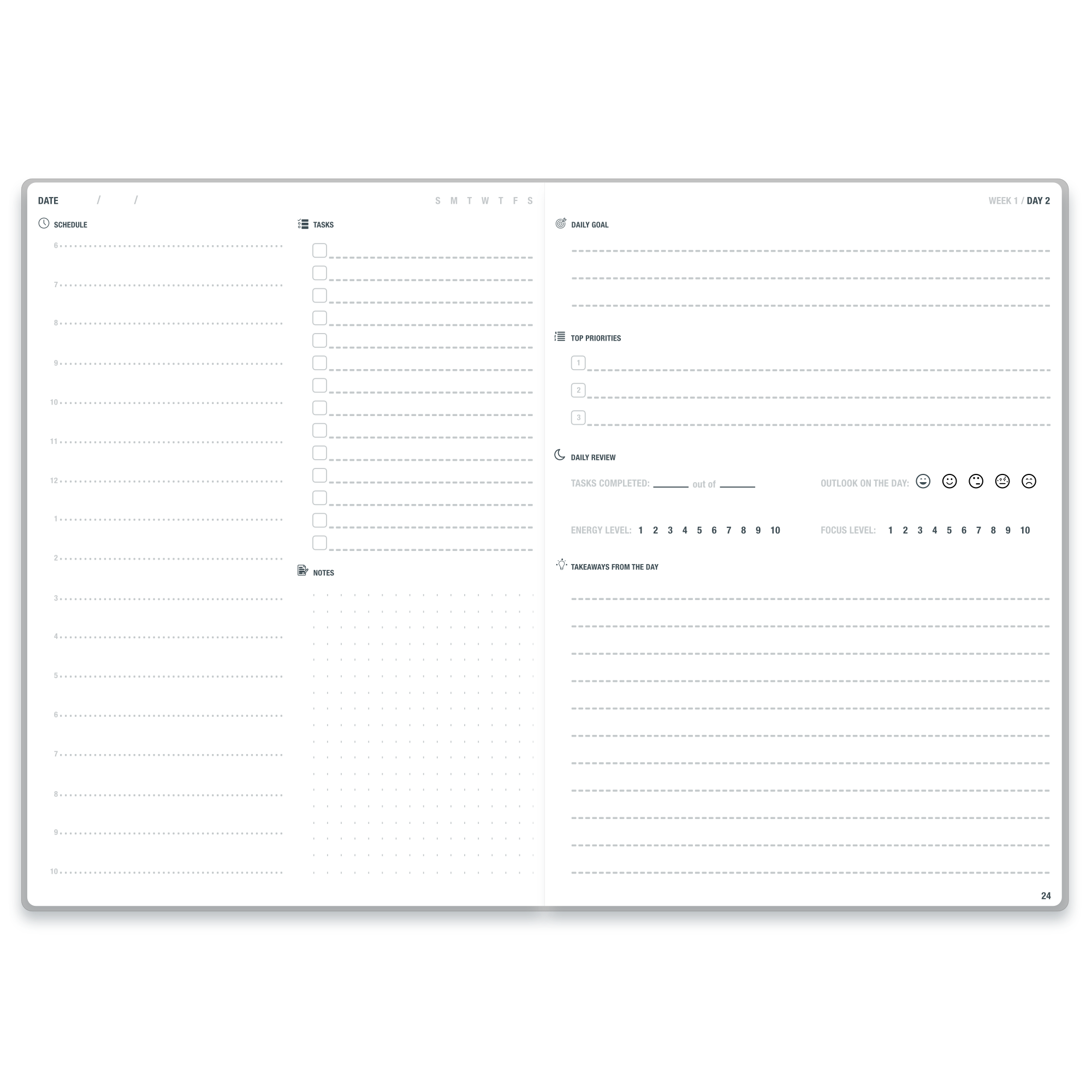 Step 1
Time Block Your Day
How do you want to spend the hours in your day? Commit your hours to the things that matter by scheduling them each day.
Step 2
Break Down Your Tasks for The Day
What will you accomplish today? Break them down and check them off as you go with a clear and easy task list.
Step 3
Set Your Clear Goal for the Day
Create your Daily Goal and Top Prioirities that you want to be intentional about today. What do you need to accomplish to feel your best at the end of the day?
Step 4
Reflect & Assess
This is where you learn from your actions and adapt for balance. Review your day and see what you accomplished, how your mindset fared, take stock of your energy and focus so you can head into tomorrow with a plan!
Join The Most Productive People In The World
★★★★★

Everything I was doing, and making excuses about, changed when I stopped just keeping track of 'what' I do, and started keeping track of 'why' I do it with the Habit System Planner.
★★★★★

I was drowning trying to hit multiple goals at once, mostly just because I thought I was supposed to. The Habit System Planner helps me focus on the one thing that actually matters.
★★★★★

It's therapeutic for me to write down all the things I really want to focus on and there's something about highlighting a finished task that an app can never give you.
★★★★★

No wonder balancing is an olympic sport. This s#*t is hard! With the Habit System Planner I can STOP saying yes to everyone else and START saying yes to myself!
★★★★★

I can actually feel that I am less stressed when I use the Habit System Planner. The 10 minutes it takes to plan my day makes me 2x more productive for the rest of the day.
100% Happiness Guarantee
Buy the Habit System Planner and use it everyday for 30 days. If you don't find an improvement in your productivity and stress, let us know and we'll give you a full refund.
The Details
Large Format
Lay Flat Design
100 GSM Paper
Dense Hardcover
Perforated Notes
216 Pages